resources > lawsuit: USDA
NEWS: USDA REMOVES ANIMAL WELFARE DOCUMENTS FROM WEBSITE — Animal Folks joins legal actions against the USDA
"The animals lose when data is hidden," says Ann Olson, Animal Folks Founder and Executive Director. "By removing animal welfare documents from the APHIS website, the USDA has made it difficult to obtain timely information about Animal Welfare Act (AWA) licensees, including dog breeders, zoos, research labs, and other regulated entities. Without access to the online databases, the public cannot easily see what violations are cited or if animals are being harmed at the facilities."
UPDATE: On March 29, 2017, the Animal Legal Defense Fund (ALDF) filed a motion to restore the USDA animal welfare documents for public viewing. Animal Folks is part of a coalition, led by ALDF, that moved for this preliminary injunction asking for a court order that would bring federal Animal Welfare Act (AWA) databases back online.
The hearing for the preliminary injunction was held May 17 in San Francisco. Unfortunately, Judge Orrick denied the motion for preliminary injunction. Efforts still continue with the original lawsuit (scroll below).
ANNOUNCEMENT: Coalition Seeks Court Order Requiring Renewed Public Access to USDA Databases

MOTION: Plaintiffs' Motion for Preliminary Injunction

OPPOSITION: From USDA to Plaintiffs' Motion

OPPOSITION: From USDA — Kevin Shea Declaration

OPPOSITION: From USDA — E. John Pollack Declaration

PLAINTIFFS' REPLY (in support of Motion): ALDF/Plaintiffs' reply
On February 22, 2017, the Animal Legal Defense Fund (ALDF) filed a lawsuit against the USDA, arguing that removal of online animal welfare records violates the Freedom of Information Act and the Administative Procedure Act. Animal Folks is a plaintiff in this lawsuit against the USDA.
ANNOUNCEMENT: Coalition of Animal Protection Organizations Sues USDA for Animal Welfare Blackout

LAWSUIT: Animal Legal Defense Fund, Stop Animal Exploitation Now, Companion Animal Protection Society, and Animal Folks vs. United States Department of Agriculture and Animal and Plant Health Inspection Services
UPDATE: On August 14, 2017, District Judge William H. Orrick dismissed the lawsuit against the United States Department of Agriculture (USDA) for removing tens of thousands of animal welfare records from the agency's website. ALDF, with Animal Folks, Companion Animal Protection Society, and Stop Animal Exploitation NOW! (the coalition), plans to appeal the decision.
ACTION ALERT: Your voice needed. See contact links below.
OVERVIEW
On February 3, 2017, the USDA abruptly removed animal welfare documents from the Animal and Plant Health Inspection Service (APHIS) website. These documents include inspection reports (such as for dog breeding facilities), regulatory correspondence (such as official warnings), research facility annual reports, enforcement records (such as pre-litigation settlement agreements and administrative complaints), and other materials.
Numerous organizations, agencies, journalists and citizens have accessed this data for years in order to protect animals, report findings, and hold abusers accountable.
Animal Folks Minnesota-Legislative Action (AFMN) has used these documents when lobbying at the State Capitol for animal protection bills as well as when testifying in MN counties and cities in support of local ordinances that protect animals.
Animal Folks (our research arm) has also used these documents when filing complaints with local law enforcement against dog breeders, pet stores, or other entities suspected of animal cruelty. The documents are also used when filing complaints with the USDA to request revocation of a breeder's license, enforcement of the Animal Welfare Act or other related noncompliance issues.
Freedom of Information Act: FOIA
The USDA stated these documents will still be available through the Freedom of Information Act (FOIA) - though additional information may be redacted, we assume. Animal Folks frequently makes data requests through FOIA; however, the data often takes many months to receive. Some requests have even taken over a year.
Since removal of the documents from teh USDA website, Animal Folks has made weekly data requests to FOIA for this data. As of August 15, 2017, we have received no documents from FOIA per these requests.
Having data easily accessible online allows us to file complaints in a timely manner, which protects animals; it also allows us and others to raise awareness about immediate animal welfare issues, and monitor enforcement actions (good or bad) conducted by the USDA.
"Long delays in processing federal FOIA requests already hinder the public and journalists in obtaining information that's essential to ensuring that government is truly working for the people," says Doug Haddix, executive director of Investigative Reporters and Editors, as quoted in National Geographic. "Anyone concerned about responsible and transparent government should be alarmed by the USDA's action." We agree.
Update: Editor's Note and USDA response
On February 7, the USDA released a statement (Editor's Note) attempting to clarify its original announcement. The USDA claims their internal discussion about this decision started in 2016. This note also stated: "These decisions are not final. Adjustments may be made regarding information appropriate for release and posting."
Animal Folks spoke with two individuals at the USDA about the agency's decision to remove the online information. They cited privacy concerns as the reason (justification) for the removal. Over a year ago, they claim, the Department of Justice asked that the agency review their online data to see if it meets the federal Privacy Act, and, they claim, current litigation involving the USDA also played a role in their decision.
We asked the USDA for the specific sections in the Privacy Act and the litigation (if public) that provoked their "data removal" decision. The information was not provided. Animal Folks will FOIA it.
NOTE: Matt Herrick, a former USDA Communications Director, Senior Advisor, tweeted: "Decision by usda 2 remove animal abuse records not requred. Totally subjective. Same option given 2 past admin. We refused. #transparency."
UPDATE: The Washington Post reported that a horse lawsuit (involving soring) may have prompted the USDA's decision to remove animal welfare reports from the APHIS website.
UPDATE: On February 17, 2017, the USDA announced that they were re-posting on their website some documents from certain Federal research facilities.
TAKE ACTION
The USDA stated their decision did not require a public hearing or public input; however, they are accepting comments.
We urge you to email and/or call the USDA at the contacts below to express your concern about the removal of animal welfare data from the APHIS website and ask that the decision be reversed. The transparency of governmental decisions and actions, the timeliness of data, and the welfare of animals must be considered and take priority.
APHIS CUSTOMER SERVICE CALL CENTER

PHONE: 1-844-820-2234

HOURS: Monday-Friday. 8:30am-5:00pm Eastern (messages can be left on the voicemail, but the voicemail can fill up)
We urge you to also contact your U.S. Senators and U.S. House Representative. Express your concern and ask that they contact the USDA to review and reverse its decision to remove animal welfare documents from the APHIS website.
MN FEDERAL SENATORS AND HOUSE REPRESENTATIVES

For Minnesotans, to find who represents you: MN District Finder

This is federal action, not state. Please contact the U.S. Senators and your U.S. House Representative.
Thank you for your action.
_______________________________________________________________
ANNOUNCEMENT: ARTICLES AND OPINIONS
USDA announcement: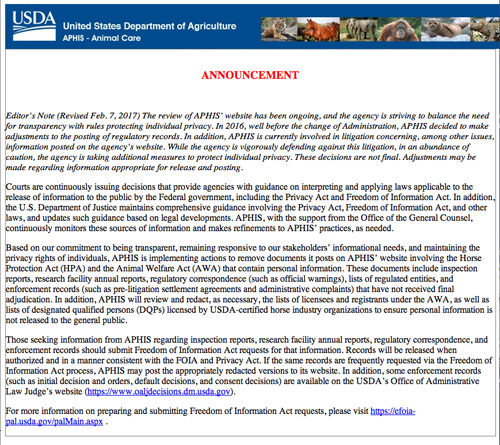 This action has attracted significant attention throughout the nation. Below are a few articles and comments:
• Science, Feb. 22, 2017

More groups sue to force USDA to restore online animal welfare records
• Sponsors to amend puppy-mill bill, February 14, 2017

Amendments direct response to removal of animal cruelty data from USDA website

• On February 13, 2017, PETA, with other plaintiffs, filed a lawsuit against the USDA: PETA lawsuit

• PETA overview posted February 17, 2017

119 Members of Congress Join PETA's Fight for Freedom of Information

• The Rachel Maddow Show, aired February 7, 2017

USDA Drops Animal Abuse Reports

This report also explains how the removal of inspection reports will also make it difficult, or impossible, to enforce pet store laws in multiple states.

• Science Magazine, published February 7, 2017

Updated: USDA responds to outcry over removal of animal welfare documents, lawsuit threats

• National Geographic, published February 6, 2017

U.S. Animal Abuse Records Deleted - What We Stand to Lose

• Time Magazine, published February 6, 2017

The Government Purged Animal Welfare Data

• The Washington Post, published February 3, 2017

USDA abruptly purges animal welfare information from its website
DONATE TODAY
Please support our efforts to protect animals and educate the public about animal welfare issues. Donate today.