issue > bauck > complaints by veterinarians
KEY MESSAGE: Complaints have been filed against Kathy Bauck from veterinarians, who have worked with her or treated dogs bought from her kennel. One complaint resulted in charges and sentencing for practicing veterinary medicine without a license.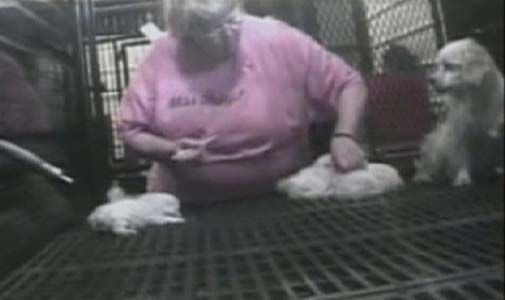 Photo credit CAPS; from CAPS undercover investigation
COMPLAINTS FILED BY VETERINARIANS
Numerous veterinarians and vet techs throughout Minnesota have given countless hours (and discounted fees) helping animals rescued from unscrupulous breeding facilities.
Over the years, a few veterinarians who have worked for Kathy Bauck or treated animals that she has bred and sold have, due to suspected animal cruelty, reported her activities to the authorities.
Two veterinarians and their complaints include:
• 1996: Dr. William Rose filed a complaint with the Otter Tail County Sheriff's Department in regards to Pick Of The Litter in October 1996. Dr. Rose (and three employees) reported "possible illegal operation of a puppy mill and mistreating dogs, also possible fraud on registered dogs by using other dogs for registration."
View Complaint: Investigation Report

While an initial investigation was conducted by the Sheriff's Office, no action was taken.

View: Sheriff Follow-up/Continuation Report

In an August 13, 2008 article in the Perham Enterprise Bulletin, Dr. Rose was quoted to say: "There have been problems for years and years [with this breeder]. ... I've always been a believer in the humane treatment of animals, and anyone who violates humane standards deserves to be prosecuted. ... I don't talk about the rights of animals, but I do talk about the responsibility of humans that are the caretakers."
• 2006: Dr. Dennis Stanford filed a complaint with the Otter Tail County Sheriff's Department in regards to Pick Of The Litter in May 2006. Dr. Stanford treated two dogs that had not been properly spayed and required additional medical attention. Dr. Stanford's concern was that Pick Of The Litter was performing surgeries, providing veterinary care and administrating medicine without the proper licensing and training, thereby endangering the animals.
View Complaint: Incident Investigation Report

Report was directed to the MN Board of Veterinary Medicine and the Attorney General's Office.

View: Sheriff Follow-up/Continuation Report

The above complaint resulted in the MN Board of Veterinary Medicine issuing a Cease and Desist Order in October 2006 for Kathy Bauck, requiring her to stop practicing veterinary medicine without a license. View: Cease and Desist

In 2007, additional complaints were filed with the MN Board of Veterinary Medicine alleging that Kathy Bauck had violated the Cease and Desist order. An investigation was conducted and it was found that she did, indeed, violate the order. The Cease and Desist was sent to the Otter Tail County Attorney.

Case No. 56-CR-08-1131

Kathy Bauck was charged with 5 counts of Veterinarians-practice without license or permit and 1 count of Overwork/Mistreat Animals-Cruelty.

NOTE: These charges are explained in detail in the Statement of Probable Cause below. The animal cruelty charge was for "picking up a puppy that was born with a hole in its intestine and whacking its head against a pole in the barn of her facility at Pick Of The Litter Kennels and throw the puppy in the garbage."

• View: Statement of Probable Cause/Finding of Probable Cause

• View: Charges and Offense Grid

A Plea Bargain was made and on May 19, 2008 Bauck was sentenced to one of the six counts: (Count 5) Veterinarians-practice without license or permit.

She was ordered to:

• Fees: pay a $900 fine plus $82 fees

• Local Confinement: 120 days in Otter Tail County Jail, of which 10 days would be served (110 days stayed) and the remainder would be work release

• Conditions: 1) no same or similar activities; and 2) remain law-abiding (cease all practices that would be considered Veterinary Practice)

• 40 hours of Community Work Service

• Unsupervised probation: two years from May 19, 2008 to May 19, 2010.

NOTE: This probation ran concurrently with the supervised probation for the animal torture count.

ALSO: The complaint by CAPS, in regards to Bauck's animal cruelty (a separate case), was filed in May 2008. The complaint by CAPS, in regards to Bauck's animal cruelty (a separate case), was filed in May 2008. This means the cruelty witnessed and recorded on the undercover video was occurring while Bauck was on probation and work release for different charges. She was sleeping in the jail at night and released during the day to work at the kennel, when the investigation (showing cruelty) was occuring.




VIEW: Register of Actions
NOTE: Other veterinarians may have known about or reported her activities throughout the years; we have data for the two above.
VETERINARIANS AT TRIAL
During the trial of Kathy Bauck (separate case: #56-CR-08-2271), two veterinarians testified as expert witnesses in regards to animal cruelty:
• Dr. Linda Wolf, a Twin Cities-based veterinarian

• Dr. Melinda Merck, a forensic veterinarian for the ASPCA
CURRENT VETERINARIANS
The veterinarian who currently works for Kathy Bauck and signs the Certificates of Veterinary Medicine (inspects the animals and approves them for shipment out of state) is: Dr. Kathleen Marcussen
Past veterinarians who have inspected the animals and signed health certificates have included: Dr. Dennis Lange, Dr. Richard Teal and Dr. Lee Chatham.
REPORTING ABUSE BY VETERINARIANS
As with any industry, there are a variety of personalities and values that guide decisions within the veterinarian community. For veterinary clinics, veterinary care is a business — guided by The Veterinarian's Oath.
In regards to animals, it appears there are a range of personality/cultural types within the veterinarian community.
There are those view animals as sentient beings and give their time and skills to help animals hurt or abused by others. These veterinarians value both the animal (as patient) and owner (as client) and who, if they see or suspect animal neglect or abuse will educate the person or, if the abuse is immediate, severe or consistent, will report it.
There are others who tend to favor the owner (the paying client) and, if they see or suspect animal neglect or abuse, do not report it for fear of losing the business. Or they may view animals as commodities, populations, breeding stock or other "mass" entities, and may not understand or agree with individual animal suffering or welfare issues.
The above attitudes may dictate what a veterinarian will do in regards to animal abuse.
Veterinarians are on the frontlines, dealing with animal issues directly. Many people believe that when all veterinarians speak up and refuse to tolerate animal abuse, real change will occur.
NOTE:
• Per Minnesota law (356.37 e Subd. 6), it is mandatory that all veterinarians report known or suspected cases of animal abuse, cruelty or neglect.

• Section 21 of the American Veterinary Practice Act encourages veterinarians to report animal abuse.
Please DONATE and support the efforts of Animal Folks MN.