issue > bauck > auctions and carriers
KEY MESSAGE: Many breeders use auction houses to get rid of older dogs and to still make money from their "investment." In March 2009, Kathy Bauck transported over 200 dogs to an auction house in Ohio. Animals' Angels reported on the care and transport.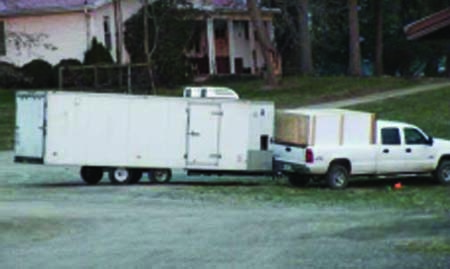 Photo copyright Animals' Angels; Bauck transport to auction
AUCTION SALES
In past years, Kathy Bauck's kennel (known as Pick Of The Litter, aka Puppys On Wheels) bought and sold animals through auctions, as some other Minnesota breeders/brokers do. In March 2009, Pick Of The Litter transported 201 dogs/puppies to the Farmerstown Dog Auction in Baltic, Ohio.
Animals' Angels investigated this auction and some of Bauck's activities. To view their report and photos at the auction, go to: Report
AUCTION VIDEOS
• VIEW: Inside Farmerstown Dog Auction in Ohio (This undercover video, by Animals' Angels, is from a January 15, 2011 dog auction. It involves another Minnesota dog breeder: Clearwater Kennel.)

• VIEW: Dog Auctions, uploaded by PetShopPuppies

• Other videos can be found on YouTube: Dog Auctions
ANIMALS SHIPPED TO AUCTION
The Certificates of Veterinary Inspection (posted below) show that of the total 201 transported to the Farmerstown Dog Auction by Pick Of The Litter in March 2009:
• Gender: 141 were female and 53 were male; 7 dogs had no gender listed

• Ages (of animals sold at auction):

6 months old: 1 dog

1 year old: 7 dogs

2 years old: 28 dogs

3 years old: 41 dogs

4 years old: 40 dogs

5 years old: 46 dogs

6 years old: 35 dogs

7 years old: 2 dogs

• Breeds (sold): Mini-Schnauzer, Chinese Crested, Pomeranian, Pug, Westie, Sheltie, Cocker Spaniel, Boston Terrier, Soft Coat Wheaten, Dachshund, Lhasa Apso, Bichon, Shih Tzu, Papillon, Keeshund, Poodle, Beagle, American Eskimo, Basset, Labrador, Chihuahua

• Veterinarian who inspected the dogs and signed the health certificates for transport: Dr. Richard Teal
The dogs sold at auction above were sold to other breeders who will continue the cycle of repeated breeding for more years. To learn more about auctions, go to: Auctions
CARRIERS
Breeders use various carriers to transport dogs and puppies to the different locations. It appears Kathy Bauck's husband, Allan Bauck, transported many of the puppies via a van. This kennel also shipped animals through Delta Airlines.
NOTE: The carrier for every shipment of animals is required, by law, to be posted on the Certificates of Veterinary Inspection (CVI); a majority of the CVIs did not have this information listed.
Please DONATE and support the efforts of Animal Folks MN.